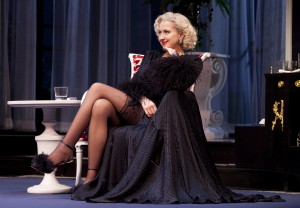 Luminous, effervescent, captivating, staggering, astonishing, breathtaking. These are all words I have used in the past five days to describe Nina Arianda's star-making performance as Billie Dawn in the smashing new revival of Born Yesterday. The truth is these adjectives don't even begin to describe the magic currently happening onstage at the Cort Theatre. Ms. Arianda isn't merely making a Broadway debut, she is effortlessly establishing herself as one of the brightest new faces in American theatre. (For the record, I missed Ms. Arianda's off-Broadway triumph in Venus in Fur and the sound that you hear is me kicking myself).
She makes her entrance casually, gaudily dressed and entirely unimpressed with the opulent $235 a night hotel suite, her tycoon boyfriend's braggadocio and the world of Washington politics. She quickly exits, but already an impression has been made. In the meantime other characters are talking, extolling necessary exposition that will come to impact the play's climax and denouement. But it's already too late for everyone else onstage. The tall, lithe blonde has merely walked across the stage and yet already captivated an entire audience. By the end of Born Yesterday, Arianda's Billie has earned not only our love, but our respect and admiration.
Much of the credit is due to author Garson Kanin, who wrote in many interesting layers and memorable lines for the character. (When asked, "What's Democratic?" Billie replies, "Not Republican.") When the tycoon realizes she may become a liability in Washington circles, he hires a reporter to smooth out her rough edges. She resists these early attempts, insisting that she enjoys being dumb and that she is happy with what she has. But Billie Dawn is someone who has sacrificed her career, her relationship with her father and her dignity for a man who treats her as a business commodity, often brusquely and brutally. Knowledge is power, which the tycoon only realizes when it's too late and she threatens his business exploits. It makes it all the more thrilling to watch her grow and become obsessed with learning, from asking questions. I haven't felt so thrilled for a singular characterization in some time; Ms. Arianda is likely to become a sensation, not unlike the role's originator Judy Holliday.
Jim Belushi plays Harry Brock, an uncouth junk tycoon who blusters his way through life and business, a contemptible bully. He is a mess of instant contradictions: embarrassed by Billie's lack of social graces while raving about like an uncouth jackass. Much of his performance is pitched higher (even a reference to his yelling in the script), but Belushi provides a fantastic antagonist. Robert Sean Leonard is reporter Paul Verrall, idealistic but cynical; a man for whom integrity is important. It's not the showiest of the roles, but Mr. Leonard plays him with utter sincerity, but could bring up the romantic spark a few notches.
Frank Wood plays Brock's self-loathing alcoholic attorney who was once Attorney General, but is easily bought. Wood effectively portrayed these elements of the character, but there were some issues with his diction at the performance I attended. Michael McGrath lurks and menaces as Brock's cousin and main henchman. Patricia Hodges makes a delicious cameo as a haughty senator's wife. The cast of thirteen also includes Terry Beaver, Jennifer Regan and Danny Rutigliano in small, but memorable appearances.
While there are some creaky moments, I was most surprised by the play's relevance. It's a product of its time, and some of the sensibilities date. However, it was not much of a stretch from 1946 to 2011 watching a corrupt tycoon try to buy government support for his dubious business practices. Harry Brock is a larger-than-life antecedent of those CEOs and banks who brought the country to the brink of financial ruin in 2008. He's brash, bombastic and so rich that he thinks he's entitled to everything he wants. He will bully and abuse everyone from a bell-hop to U.S Senator. In our reality, he would most likely get his way. However, Kanin reminds us that the people are the government.
Director Doug Hughes, whose revival of The Royal Family was also a sumptuous period feast, stages Kanin's text with a deft comic touch. These actors are playing for character and not laughs, making it a warmer experience than I even anticipated. The experience is heightened by the lavish set and costumes, with stunning period detail. John Lee Beatty's divine navy blue and gold trimmed hotel suite earns gasps and applause as the curtain rises while Catherine Zuber's costumes are perfection (the way she dresses Billie Dawn as she transforms is pure genius). It's the best sort of eye candy.
Beg, borrow or steal. Do whatever you can to get to the Cort Theatre. Nina Arianda is not to be missed.