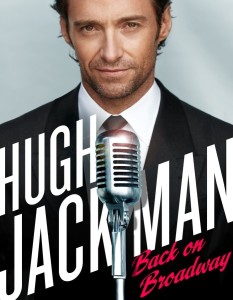 I'm sure there are some people in the world who have watched Hugh Jackman's movies or have seen Hugh Jackman onstage and haven't cared for him. I'm sure there are some who might think that he's overrated or that Wolverine sings too much, or what have you. I personally have yet to meet an individual who meets this criteria, and frankly I hope I never do. In fact, I think Hugh Jackman haters are a myth; until I meet one in the flesh, I refuse to believe otherwise. Everyone I know who has seen Jackman onstage has fallen under the spell: the man is a triple threat who would make the Pied Piper quit on the spot. The charming Tony winner is a megawatt star, and Broadway is rejoicing to have him back once again.
When I heard the announcement of Hugh Jackman: Back on Broadway, I knew this was a show I had to see. I also knew that critics and audiences alike would be falling over themselves. Hugh Jackman onstage being musical is about as good as it gets. I first saw Mr. Jackman as Billy Bigelow in the spectacular concert of Carousel in 2002 at Carnegie Hall (and unfortunately no one thought to record it; it was, in a word, epic). He returned to NY for his Broadway debut playing Peter Allen in The Boy From Oz the following year. The show, which on the page is not very good, became the hottest ticket in town thanks to one of the greatest star-turns Broadway has seen in years. Our Hugh walked away with every award in sight, up to and including the Tony (if you remember, he received a full-house standing ovation when he won – that's how much that performance won over Broadway) and he was so much a part of the show that they canceled performances if he wasn't scheduled to be on, and ultimately closed the show because he was irreplaceable.
The truth of the matter is that whenever Hugh Jackman performs, he immediately commands attention. A true triple threat, Mr. Jackman oozes star quality from the minute he enters to his encore. Mr. Jackman is here to entertain, and entertain he does with songs, anecdotes and interaction with the audience.  He revisits his stage roles, opening and closing act one with his two major Rodgers and Hammerstein performances ("Oh, What a Beautiful Mornin' from Oklahoma! and a galvanizing "Soliloquy" from Carousel). Peter Allen makes a cameo appearance in the second act for some banter and a wonderfully over-the-top medley of his songs. There's also the memorable one-person version of the rapid-fire "Rock Island Line" from The Music Man. Mr. Jackman is also dancing up a storm, with spirited choreography from Warren Carlyle (including tap). Each act contains a major dance showstopper. The first represents the conflict between Jackman the song and dance man with Jackman, action star ("I Won't Dance"). He tops this charmer in the second act with a nine minute medley saluting the movie musical that practically reduced the Broadhurst to rubble.
Also, the star doesn't stay glued to his script. He has marks to hit, but acts on impulses and whims and is ready for any comment that may come from the audience or strike his fancy (the night I saw him, he pointed out that one of his six back-up dancers had been up since 5am to get her kids to school, get to a soap opera shoot and then perform two shows that day. He also had his dresser come out onstage). It's this rapport which makes Jackman the entertainer so likable. You feel for two hours this big extravaganza is just for you. The impact is thrilling beyond belief.
I hope someone enterprising decides to record the production for TV or HD movie screenings that have become popular in recent years. While the show is being promoted as a concert and is therefore not Tony eligible, I do hope the stars align for Hugh Jackman to host the the 2012 Tony Awards so he can charm us all once again, but also take home an honorary Tony and give us one of his dance medleys as the telecast's opening number.
I'm not a big full price spender, as I rarely think any of the shows I see are worth shelling out premium prices. However, with Hugh I say just go for it. Treat yourself, you won't regret it. In the meantime, Hugh Jackman is the King of Broadway through January 1.