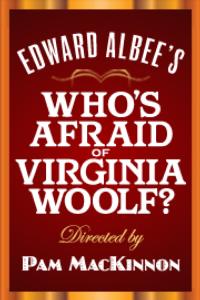 I've received press invites to many preview performances, but until Thursday night I had never been invited to cover a show's first preview. The 50th anniversary revival of Edward Albee's Who's Afraid of Virginia Woolf? has started performances at the Booth Theatre, an import from Steppenwolf starring Tracy Letts and Amy Morton. Even more surprising about this invite is that I received no press embargo. Well, with a play this solid and a production this fantastic, the October 13th opening is merely a formality. This new revival, gamely directed by Pam McKinnon, is a must-see.
Albee's play is one of my favorites. I've read it many times (both the 1962 and 2005 editions). I love the "games" played, the logic and wordplay, as well as the iconic put-downs. I was bowled over by the 2005 revival starring Kathleen Turner and Tony-winner Bill Irwin (incidentally, the first time I ever saw a Broadway play for a second time) and one of my prized possessions is the 4-LP original Broadway cast album from Columbia (a collector's item worth tracking down – Uta Hagen exceeds the hype). I even enjoy Mike Nichols' iconic, if humorless film adaptation. I know Virginia Woolf? is 50 years old, but I don't want to reveal any plot points just in case there's someone reading this who hasn't experienced it. In short: a professor's wife invites a new, younger professor and his wife to their house after a faculty party for a small mixer. Booze and insults starts to flow, and things get unpleasant.
This Steppenwolf import is not your grandmother's Virginia Woolf? Dynamics are significantly altered, characters fleshed out in ways that puts a different new spin on a classic. Even the familiar set is a now glorious disaster; a beautiful living room now marred by George and Martha's mess: piles of books and papers strewn everywhere (including the fireplace), empty glasses, and bottles. Martha doesn't take total command on her first entrance with "Jesus H. Christ" and George doesn't seem quite so deferential.
In fact, Amy Morton takes Martha in a whole new direction. She doesn't exude the larger than life gaucheness you expect of Martha. Instead, Morton enters looking very much the prim and proper professor's wife in a conservative coat with her haired pulled back tightly. Once she lets down her hair, however, she is more than ready to hurl razor-sharp, ugly insults and "bite till there's blood." Yet Morton reveals many layers and facets of Martha that I hadn't considered before. Her organic approach brings out Martha's rage and disappointment in unexpected ways, even with her understated deliveries of certain scenes. Her final moments are utterly devastating.
Tracy Letts, probably better known these days for his award-winning writing than his acting, offers one of the most complicated and most dangerous interpretations of George.  Typically played as a seemingly subservient foil to Martha's domineering battle-ax, here he has more control than usual. The relationship between George and Martha has always been complicated, compelling and weird. With Letts' tremendous performance, George not only dominates, but his relationship with Martha becomes as terrifying as a depraved codependency can be. His is a performance for the ages.
Madison Dirks plays Nick as less all-American and with more of an edge; his arrogance, ambition and condescension for George so naked that it's easy to see why George goes out of his way to humiliate him. Even more impressive is Carrie Coon, offering one of the best interpretations of Honey I've seen. She enters, the epitome of primness and overly eager to impress, ultimately coming across as an embarrassment to her husband. As Honey gets drunker and drunker, Coon plays the scenes with a reckless, yet endearing abandon which makes Honey more empathetic and her breakdown over Nick revealing a personal secret all the more devastating.
Every time I experience Who's Afraid of Virginia Woolf? (on stage, film or record), I am utterly spent by the end, as though I've actually stayed up until 5AM with these people. The play holds up remarkably well. It's still unbearably hilarious and it ultimately still packs the sort of wallop that leaves an audience reeling. I can't wait to experience it again.