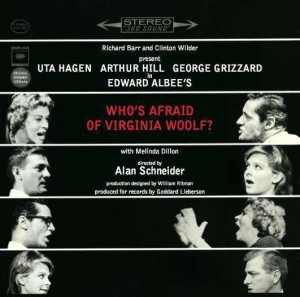 One of my prized possessions is a copy of the 4-LP original Broadway cast album of Edward Albee's masterpiece Who's Afraid of Virginia Woolf?  It's a handsomely packaged boxed set, with 4 LPs and a special booklet containing essays and commentary by Albee, Harold Clurman and Walter Kerr. The records are in mint condition and there's not a crease in the booklet; this album was clearly cared for by a serious collector.
I'll never forget the first experience of hearing this cast album for the first time. I was just going to sample a few minutes before going about my day. I had a night shift at Barnes and Noble later in the evening, and had some things I wanted to take care of before I went to work. Well, 160 minutes later, I found myself lying on my sofa as Hagen said the play's final lines, utterly spent (both of us). I also came to realize that good plays make for great listening; and while not as common as musical cast albums, some performances were recorded including Richard Burton's Hamlet, Luv, The Subject Was Roses, etc. It rarely happens these days, but I would have gladly purchased a recording of August: Osage County, Vanya and Sonia and Masha and Spike, and the revivals of Mary Stuart and The Norman Conquests (to name just a few).
The original performances are all strong. Arthur Hill's George seems mild-mannered, but there's unsettling emotion always simmering beneath the surface. George Grizzard and Melinda Dillon are expertly cast as the secondary couple, arrogant, ambitious Nick and flighty, repressed Honey. However, it is Uta Hagen's Martha, the stuff of acting legend, who dominates the proceedings. Ms. Hagen, only manages not only to live up to the myth, but she surpasses all expectations. Boorish, loud, caustic and cutting, hers is a mammoth, animalistic performance. However, the showier moments are layered with limitless depth. Martha's innate brashness serves to make her quieter moments in the third act, as she is laid emotionally bare, all the more arresting and heartbreaking.
I have seen the acclaimed 1966 film adaptation numerous times, and have made it a point to catch the two recent Broadway revivals. I've enjoyed all these incarnations, but I find that I always go back to this original cast. It's amazes me that an aural capture of a play could be so thrilling; with every clink of glass and chime helping to bring Albee's text to life in one's own home. Kudos to Goddard Lieberson, known for producing some of the finest musical cast albums of all time, for recording the play unexpurgated and with such vivid attention to detail. Kudos, too, to Masterworks Broadway, for making this great play available for the first time since its original release. It is essential listening for anyone with a vested interest in drama.  On second thought, it's essential listening for anyone with a vested interest in the English language. Every performing arts college and library in the country would be mad not to add this piece of history to their collections.