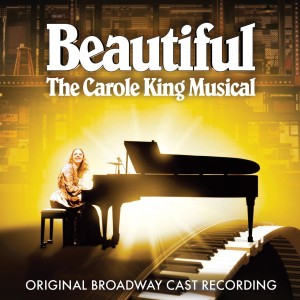 Since the long-playing record went out of vogue, very few contemporary cast recordings have been released on vinyl, the most notable being the original Broadway cast recording of The Drowsy Chaperone and the 2009 revival of Hair. These came courtesy of Sh-K-Boom/Ghostlight Records, who also issued a limited vinyl edition of Beautiful, the hit bio-musical about Carole King currently playing the Sondheim Theatre. These three releases, while conceived as collector's souvenirs, were in essence leading a return to form, as more musicals seem to be taking part in the current vinyl renaissance.
I've never been without a record player in my life, and I listen to LPs whenever I can. My very first cast album was the London My Fair Lady gatefold from Columbia. I was that nerdy child rummaging through boxes at second-hand bookshops and flea markets, picking out the Golden Age records that would start my life-long love of show music. (Spoiler alert: I am still that nerdy child). It's different from popping on a CD or downloading an album from iTunes. Newer digital technologies are great for convenience, but the act of putting a record on a turntable, lifting a needle to the surface and waiting through those brief pops and crackles for the sound to pour out is a much more visceral, immersive experience. Plus, there's the added pleasure of looking at the record sleeve and its artwork, allowing for greater appreciation of show logos and designs.
I don't think Beautiful itself is a particularly great musical, but it is quite entertaining, especially thanks to its leading players. The show chronicles the early life and career of legend Carole King, her collaborator/husband (Gerry Goffin) and friends (songwriting team Barry Mann and Cynthia Weil) through the late 50s and 60s, up to her Carnegie Hall debut in 1971. The story is told in a rote fashion, with most of the song cues feeling like elaborate setups for a bizarre game of Name That Tune. The first act spends much of its time showing King and co. at work in the Brill Building, surprising the audience with an "I bet you didn't know she wrote this one" attitude. The second act focuses on King finding her own voice as a singer-songwriter, though I think the musical ends just as Carole King's life starts to get really interesting.
What Beautiful had going for it – and this is the most important element of all – was its leading lady Jessie Mueller, who was a sensational doppelgänger for King. I've seen Ms. Mueller in almost everything she's done since arriving in New York (with the exception of On a Clear Day You Can See Forever) and she continues to astonish me. Her voice is one of the modern wonders of contemporary musical theatre, seemingly able to sing any role in any tessitura. Onstage and off, Mueller radiates warmth, charm and pluck. (She's also my choice for a Broadway revival of Funny Girl. In the meanwhile, I look forward to her return in Waitress).
But Mueller was not headlining a solo show. There's also the delicious pairing of Spector and Larsen as King's close friends Barry Mann and Cynthia Weil. They are spectacularly warm, funny second bananas who should be headlining a separate Mann-Weil musical. (Billed as "The Carole King Musical," Beautiful uses just a little too much of their tune-stack). However, Beautiful is even more enjoyable on second viewing. I went back to see it one more time before Mueller departed, and the issues I had were less problematic to me.
While I have my reservations about Beautiful the musical, Beautiful the cast album is a treasure.  Capturing the best of the show (its songs and performances), it plays quite well on disc, though I am more inclined to revisit Mueller, Spector and Larsen's contributions than the slavish recreations of '60s pop hits. As someone who hasn't taken to the jukebox musical trend, I'm surprised how often I listen to the album, especially Mueller's dynamic performance of the title song.
The idea to release Beautiful on LP came from marketing whiz Rick Miramontez over at O&M. Many of these were given out as voter swag to members of the various awards groups, ostensibly to capitalize on the nostalgia factor of Carole King among Baby Boomers. The vinyl release also went on sale at the theatre and from Sh-K-Boom/Ghostlight's website. It has since been made available at Amazon and Barnes & Noble. The CD release liner notes (with lyrics) have been beautifully repurposed for the gatefold interior, as well as the individual record sleeves.
Having purchased Beautiful from iTunes, and being quite aware of how it sounded on my iPhone, I was unprepared for the record experience. Mueller's voice has considerable warmth, but somehow she sounds even warmer here. I stopped what I was doing to hear her sing those first lines of "So Far Away," and immediately picked up the needle so I could hear it again. Mueller's voice was made for vinyl. Plus, the LP release comes with a digital download card, so you'll have the cast recording for your on-the-go needs.
This release was meant as a sort of novelty to cash-in on the show's nostalgia. However, it seems to have come at a perfect time: sales of vinyls are up (as are sales of turntables). Sh-K-Boom has also released The Last Five Years film soundtrack as a 2-LP. Other musicals (Hedwig and the Angry Inch, School of Rock, If/Then) have released their Broadway cast albums released in the LP format. Word is Hamilton's best-selling and brilliant cast recording will be released on vinyl some time in 2016. Plus Masterworks Broadway has teamed up with Analog Spark to reissue some of their classic cast albums. I hope this is an encouraging sign of what's to come because #yesrecords (and because I require the original Broadway cast recording of The Bridges of Madison County on vinyl).