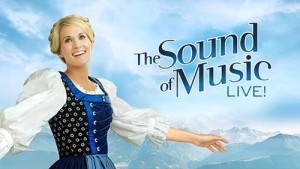 How do you solve a problem like Maria, that chipper almost-nun turned nanny who saves a broken family and outwits the Nazis? Not only is she based on an actual person, but she's a star turn requiring killer vocals and unlimited amounts of charm and pluck. If these demands weren't enough, anyone who plays her must live in the shadow of two indelible portrayals: Julie Andrews in the film, and to a lesser extent, Mary Martin in the original stage production. It's a tough gig that invites comparisons and stirs up quite a lot of nostalgic emotion. NBC took a huge risk last night, dedicating its entire primetime slot to a live performance of the original stage version of the show (book by Lindsay & Crouse). Billed as The Sound of Music Live!, the telecast did have a major problem with Maria. While it wasn't quite a success, it was definitely worth the effort.
Some history: the musical wouldn't exist without Mary Martin, the Texas gal turned beloved Broadway icon. She owned the rights to the story and approached Rodgers and Hammerstein to supply a few songs for a play, and they in turn offered to make it a musical. The Sound of Music premiered in 1959 (ten years after the trio experienced a major hit with South Pacific). Incidentally, the show has never been much of a critical favorite, with both the original production and film receiving mixed notices. But it didn't matter, the show has belonged to the audience since its first performance.
Martin played Maria to standing room crowds for almost two years. She never missed a performance, not even when she filmed her iconic Peter Pan in 1960. That Martin, 45 going on 46 and already a grandmother, was probably too old to play a young postulant didn't register with critics and audiences. Mary Martin radiated perpetual youthfulness, charm and love from the stage, and that star quality was enough to make the crowds suspend their disbelief. She was surrounded by great talent, including Theodore Bikel as the Captain, and most notably the dignified, Tony-winning dramatic soprano Patricia Neway as the Reverend Mother (Neway was actually six years younger than Mary). The show was the biggest hit of the season and won the Best Musical Tony over Gypsy (in a tie with Fiorello!). Martin received her third Tony as Maria, besting Ethel Merman's iconic Rose. Florence Henderson headlined the national tour. Meanwhile, in London, the musical opened without an established star and became the longest running show in West End history. The show itself had become the attraction.
For the 1965 film, screenwriter Ernest Lehman smoothed out the narrative and added some conflict to the relationship between Maria and the kids, and also found better placement for some of the songs. Two sophisticated songs for Max and Elsa were dropped. One of Lehman's more curious choices was to make Elsa a Baroness, stripping her of her political opinions and CEO status, while setting her up as a romantic villain, which was not how she was portrayed in the original production. Rodgers added two new songs ("I Have Confidence" and "Something Good") to help flesh out Maria. Because of its overwhelming popularity, this film has become what most people expect when they see the musical onstage. The 1981 London revival starring Petula Clark was the first to incorporate material from the film, and other productions have followed suit, including the 1998 Broadway and 2006 London revivals.
As for NBC's mixed bag telecast, the easiest and most obvious target for criticism is Carrie Underwood, as the entire event was built around her. Ms. Underwood, an American Idol alum and country star, has a great voice, but is severely lacking in acting ability. As I watched the show, I noticed the dichotomy between her singing and speaking. She became increasingly relaxed in her singing, but displayed a jarring disconnect with the dialogue. She just seemed to say words, without registering any emotion or feeling. At first I thought Ms. Underwood was a poor choice for Maria, but as the evening progressed I started to think Maria was a poor choice for Ms. Underwood. She probably would have been better served by Annie Get Your Gun, or some similar show that would play to her strengths and personality.
Ultimately, what Underwood needed was strong direction and she didn't get that from either Rob Ashford or Beth McCarthy-Miller. Ashford has been assigned many classic musicals but has a perilous tendency to not trust the material. His choreography is quite often all style and very little substance. Case in point: the teenagers in "Sixteen Going on Seventeen" doing a spirited polka through a wooden hillside. I suppose I should just be grateful he didn't have nuns hitch kicking around the abbey for no reason. What was presented on TV was merely blocking, with far too many intrusive commercial breaks. Issues with pacing and timing were rampant, even marring those scenes dominated by the Broadway stalwarts.
Audra McDonald's Abbess was very good and her "Climb Ev'ry Mountain" was the musical apex of the evening, but while she had the grace she lacked the gravitas, and only felt like an authentic Mother Superior in her scenes alone with Underwood. All other times, she felt more like the popular nun as opposed to the head nun. The best performance of the night came from Laura Benanti as Elsa. In many ways, the character is far more fascinating in her politicized role onstage, representing those who chose ambivalent appeasement while Hitler took power. Benanti looked like a million dollars, sang like a dream, and her realization that the relationship was over during the last line of "No Way to Stop It" was the finest piece of acting of the night. (It's also worth noting that Ms. Benanti was social media's favorite: her name trended *worldwide* on Twitter for five hours). The cast album is worth getting just for these two ladies.
My quibbles aside, I was glad to see a three hour musical presented live on network television. I want to see more presentations like this. I applaud the risk, which seems to have paid off for NBC in press and especially in the ratings. While it ultimately fell short of expectations, it's certainly worth another try. And I hope whatever it is, it stars Laura Benanti.