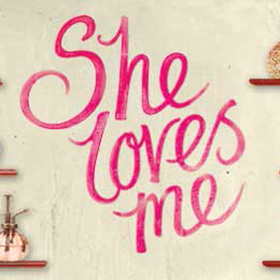 "My kingdom for a revival of She Loves Me!" is a thing I once tweeted. I fell in love with the original Broadway cast recording in high school, but it would be years before I would get to see it onstage. That chance arrived in 2013, when Ted Sterling presented a 50th anniversary concert at Caramoor. Cut to 2016. Exactly four years to the day after sending out this desperate missive, I was at the fourth preview of an enchanting revival at the Menier Chocolate Factory (and the second major production I'd seen this year).
She Loves Me is the ultimate charm show: a perfect confection of musical comedy writing that is romantic without being sentimental, witty without being self-aware, and heartwarming without being cloying. Based on the Miklós László play Parfumerie (source material for the films The Shop Around the Corner and You've Got Mail), it's about two coworkers are carrying on a profound correspondence by letter, not knowing that they work together — and loathe each other. Bock and Harnick's score is one of the greatest in musical theatre. The songs are so character specific and integral to the plot that they don't work as well without the context of Joe Masteroff's expert libretto. The show is also blessed with one of the strongest second acts of a musical ever, with what I call The 11:00 Stretch from "Vanilla Ice Cream" to "Twelve Days to Christmas."
She Loves Me has never become a household title, though it remains a cult favorite. Its original production was eclipsed by flashy blockbusters like Hello, Dolly! and Funny Girl, running only nine months in spite of good notices and direction by Harold Prince. Every subsequent high-profile production has either been a financial failure or a limited engagement at a non-profit theatre.
My hat is off to director Matthew White, who pitches his production at a perfect pace. First and foremost, he trusts the material (even if saddled with the mostly-inferior 1993 revisions). He emphasizes the humanity of these characters, with profoundly funny and moving results. Secondly, his focus never strays far from the economic and political uncertainty of 1930s Europe. Finally, he uses the space with such economy and invention that it becomes impossible to resist the show's intoxicating charms.
Mark Umbers and Scarlett Strallen play the feuding co-workers and would-be lovers. These two don't just bicker, they hurl insults at each other like grenades. Their chemistry is sublime; combusting with euphoria in the one-two punch of "Vanilla Ice Cream" and "She Loves Me" in the second act. Umbers is immensely likable as the bookish and shy clerk, bringing out colors in the text that I'd never noticed before. Strallen, blessed with a lovely soprano, gives what feels like a close approximation of what Julie Andrews might have done with the part.
Katherine Kingsley is quite simply the best Ilona I've ever seen, combining expert comic timing with pathos. Kingsley's real-life husband Dominic Tighe plays her Kodaly, the likable cad. They have a playfulness that most paired in the roles don't have, and Tighe's "Grand Knowing You" is an absolute riot. Alistair Brookshaw puts a new spin on weary, reliable Sipos, whose neuroses over job security wreak havoc on Georg's life. Cory English plays the haughty head waiter with a mix of droll comedy and surprising warmth. Callum Howells is an endearing Arpad (and has the most charming Welsh accent) and Les Dennis (Mr. Maraczek) is particularly moving in his "Days Gone By" reprise. A favorite among the game ensemble: Aimee Hodnett. Ms. Hodnett's nosy shop customer lived for the workplace drama at Maraczek's, and I lived for the grace notes she was adding on the periphery.
Jason Carr's new orchestrations sound better than the synth-heavy charts used in 1993. MTI should consider licensing his treatment for school, amateur and chamber productions. Catherine Jayes leads the band and conducts the show with sensitivity and depth. Paul Farnsworth's jewel box of a set effectively uses four small turntables for transitions in and out of the shop. Farnsworth's costumes are even better: his attention to period and character is beyond reproach.
She Loves Me runs at the Menier Chocolate Factory through March 4. No word yet on whether or not there will be a West End transfer. To the powers that be, I can only say: Don't let it end, dear friends.