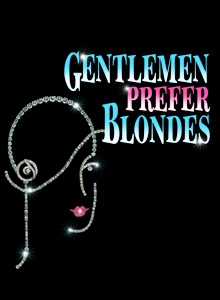 For its third and final entry of the year, Encores! lightened things up considerably with a delightful production of Gentlemen Prefer Blondes, the 1949 classic that made Carol Channing a star (and whose 1953 film adaptation featured some gal named Marilyn). The musical, with a highly entertaining score by Jule Styne and Leo Robin, is a 40s spoof of the 20s and is rather a flimsy affair. Everything will work out for our heroine Lorelei Lee and her pal Dorothy Shaw as they look for love. It just takes a meandering book (by Joseph Fields and Anita Loos) and a lot of specialty filler to get there. Said specialties are a delight, and it was wonderful to see a Golden Age musical staged with separate singing and dancing ensembles. This Encores production, nimbly directed by John Rando (with David Ives again doing the concert adaptation), was bright and breezy fun, but it also showed that the show as a whole doesn't quite hold up so well.
Megan Hilty is a musical comedy dream. Her funny and sexy performance as Lorelei was captivating; whenever she was on stage you just had to look at her. Blessed with immense beauty and voice for days, Ms. Hilty took Lorelei's two big solos (and their encores) and turned them into the evening's high points (I still can see and hear her blissful delivery of the repeated line "The one who done me wrong" from "A Little Girl from Little Rock"). After the second encore of "Diamonds Are a Girl's Best Friend," the audience went into sheer euphoria, with thunderous applause and cheering that only increased with intensity and volume on Ms. Hilty's entrance in the next scene. Whenever Lorelei isn't center stage, the show isn't as infectious, but fortunately the stellar supporting cast more than made up for that.
Rachel York brought considerable joy and sass as Dorothy, leading various production numbers including "It's High Time," the racy "I Love What I'm Doing" and the Charleston fueled eleven o'clock number "Keeping Cool with Coolidge." Aaron Lazar was virtually unrecognizable as her nerdy Philadelphia stuff-shirt love interest (who gets the show's few romantic ballads). Stephen Buntrock appeared as a fitness-crazed entrepeneur whose number is an unlikely tribute to fiber. A triumvirate from the recent revival of Blithe Spirit, Simon Jones, Deborah Rush and Sandra Shipley (Rush's understudy), were on hand as the older generation bringing some expected laughs.
Randy Skinner, who provided the spirited choreography for the Encores! No, No, Nanette four years ago, once again showed he is one of the best with clever, creative and crowd-pleasing work that showed form and integrity. Unlike recent Golden Age revivals on Broadway, Skinner's work never reeks of the "everything-but-the-kitchen-sink" desperation that make up what is purported to be a showstopper. The dance highlight was a tap speciality to "Mamie is Mimi," at the top of the second, originally conceived for Atkins and Coles (Atkins would go on to win the 1989 Tony for Best Choreography for Black & Blue, Coles won Best Featured Actor in a Musical for My One and Only in 1983). Phillip Attmore and Jared Grimes brought down the house, along with Megan Sikora, in a tremendously dazzling display.
Don Walker's orchestrations were fantastic, as were Trude Rittmann's dance arrangements (lots of music that has never been recorded before). However, the evening really belonged to Hugh Martin. Mr. Martin, who basically created vocal arranging on Broadway, including the famous "Sing for Your Supper" trio in The Boys from Syracuse, created elaborate tight-knit vocal harmonies which were given impeccable musicianship by the singing ensemble.
With a book this flimsy, a Broadway transfer is not a particularly good idea and Encores! was the perfect venue. However, there is good news: a cast recording will be made. On the heels of PS Classics recording Merrily We Roll Along, and the Ghostlight's live recording of Pipe Dream, this will mark the first time an entire Encores! season has been recorded since 1999.