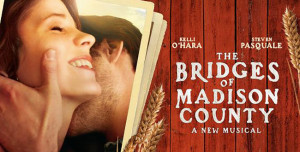 Recently, I referred to the 1956 musical The Most Happy Fella, Frank Loesser's lush romantic masterpiece, as a "grown-up musical for grown-ups." Much of the current Broadway musical theatre is made up of subversive comedies, by-the-number adaptations of movies, and pre-packaged song catalogs. Sincere romantic musical plays tend to be a tougher sell these days. The most recent example I can think of is Giant with its sweeping score by Michael John LaChiusa. However, that show played a limited run off-Broadway at the Public (though it should have been on Broadway at the Vivian Beaumont). Well, a new grown-up musical for grown-ups has come to Broadway and it's Jason Robert Brown and Marsha Norman's beautiful adaptation of The Bridges of Madison County.
Based on Robert James Waller's best-selling novel, Bridges tells of a four day, once-in-a-lifetime affair between an Italian housewife and a National Geographic photographer in 1965 Iowa. The husband and the kids leave for the state fair, and she is planning to relax with iced tea and a novel. However, fate has something else in store for her when the photographer pulls into her driveway to ask for directions. The novel was excoriated upon its release, but sold millions of copies and became a 1995 film starring Clint Eastwood and Meryl Streep.
The bittersweet new musical, now playing at the Schoenfeld Theatre, may be the best incarnation of Waller's story. Francesca (Kelli O'Hara) married an American soldier after her fiancé died in WWII to escape war-ravaged Naples. Robert (Steven Pasquale) has drifted through life as a roving photographer, never comfortable with commitment or settling down. Truth be told, their romance doesn't feel like an affair, or for that matter even remotely adulterous. There is no true villain or antagonist; it is circumstance that brings them together and ultimately thwarts the possibility of "happily ever after." In many ways it is reminiscent of Brief Encounter, with two ordinary people discovering an overwhelming passion that had previously eluded them.
Jason Robert Brown has written one of the most ambitious, openly romantic scores heard on Broadway since Adam Guettel's The Light in the Piazza. It is, I think, his best work since Parade. He serves double duty as orchestrator and creates a beautiful string-based chamber sound. Marsha Norman's book complements Brown's score, establishing rich characters with vivid attention to detail. It is to the credit of both that the events never feel cheap or saccharine, and even the most banal word comes from a place of infinite emotion.
Bartlett Sher's direction is quite superb; his staging is simple and forthright, yet always tender. The show does tend to meander a bit in the first act, and too much time is spent at the state fair, but by the second act the focus becomes laser-sharp. When Bridges focuses on its central relationship, it reaches its emotional pinnacle, giving the story a depth I didn't think possible. O'Hara is giving the performance of her career, with one of the most sensitive and vocally supple turns we've yet to see from her. Pasquale makes his Broadway musical debut at long last, and it this season's gift to hear his soaring baritone. O'Hara's heart-stopping "Almost Real" is a practically an operatic aria while he devastates with the eleven o'clock number "It All Fades Away," which may well be the best show song of the last ten years, maybe more. Their duets are the sort of dreamy, soaring moments that are musical theatre at its finest. Their duet "Before and After You/One Second and a Million Miles" is a gorgeously realized musical scene, which I think compares with the legendary Bench Scene from Carousel. Their singing is matched the intensity of their onstage chemistry, which was so hot that the woman next to me started fanning herself at intermission.
The supporting cast is mostly excellent. Hunter Foster has the rather thankless role of Francesca's somewhat oblivious husband, but he humanizes the character. Michael X. Martin and Cass Morgan provide warmly received comic relief as Francesca's married neighbors. Morgan's nosy Marge is played mostly in broad strokes throughout the first act, but she displays unexpected depth and surprising empathy in the second. Caitlin Kinnunen and Derek Klena barely register as Francesca's sparring children, but mostly because the roles are so limited. Whitney Bashor sells her one number beautifully (though I understand she also had a devastating aria which was cut).
There are many things about Bridges that remind me of the aforementioned Piazza. Both shows share Italian sensibilities, its two leading players, director, and scenic and costume designers (Michael Yeargan and Catherine Zuber, respectively). Brown's finale "Always Better" evokes memories of Guettel's "Fable." The leading ladies of both shows even share a surname: Johnson. Piazza opened at Lincoln Center Theatre and ran for 504 performances, which I think surprised many (including the show's ardent admirers, myself included). Bridges, on the other hand, is a commercial risk and it hasn't been doing so well.
I'm not sure how long The Bridges of Madison County will last on Broadway, but I feel it is a show that grow in estimation through the years, especially after the original cast album is released. After all, it seems Broadway only gets a new romantic musical once a decade. We grown-ups should savor it while we can.