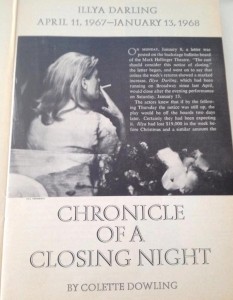 I've been collecting Playbills for years. Not only for the shows I've seen, but also ones that I've picked up at the Broadway Flea Market or in various shops. It started initially with some of my favorite flops, but has expanded to include almost anything I can get my hands on. Last week, I was flipping through my Playbill for the original Broadway production of The Prime of Miss Jean Brodie, one I picked up randomly for a spell-check, when I came across a fascinating feature article by Colette Dowling chronicling the closing of the musical Illya Darling, a 1967 screen-to-stage adaptation of the hit 1960 film Never on Sunday.
Illya Darling was mostly eviscerated by the critics, with raves only for its Greek star Melina Mercouri, who was reprising her star-making, Oscar-nominated performance as a care-free, empowered prostitute (It's about an insufferable American tourist who tries unsuccessfully to reform her in a sort of reverse take on the Pygmalion myth). 1967-68 was not a particularly strong season for Broadway musicals; at 320 performances, Illya was the longest running Best Musical Tony nominee of the season. The show lasted as long as it did because of a strong advance and the magnetic presence of Mercouri. However, business had dropped off precipitously during the Christmas holiday prompting a provisional one-week closing notice in January.

The article starts off by discussing the final week of the run. Mercouri, Orson Bean and three other principal players proposed taking Equity minimum to stay open, but the producer (Kermit Bloomgarden, who is never actually mentioned by name) said no. When the provisional notice wasn't rescinded as of Thursday, the cast realized their show was closing in two days. Next to the notice was a typed thank you note from the producer, information regarding unemployment insurance and a request for donations for the closing night party.
Ms. Dowling was allowed backstage access during this final performance. She shadowed Mercouri throughout the performance, but also saw much of the behavior that goes on behind the scenes at a musical. Star Mercouri is weary and emotionally exhausted. The stagehands are noisy. The assistant stage manager pisses off the production stage manager by stealing his photo of Melina and having it personalized. The most unsettling incident: a cocky stagehand grabs Mercouri just prior to an entrance and kisses her to impress his friends, refusing to let go of her. Mercouri, who briefly flirts with rage, laughs it off and barely makes it onstage in time.
There is an unusual political aspect associated with Illya Darling. The infamous Greek military junta took place just ten days after Mercouri's Broadway opening. It made her the most prominent exile, as well as a vocal opponent of the junta. Her property and assets were seized. When her Greek citizenship was revoked by Minister of the Interior Stylianos Pattakos, Ms. Mercouri famously declared "I was born a Greek and I will die a Greek. Mr. Pattakos was born a fascist and will die a fascist." So great was her power and presence in the anti-junta movement, she was later the target of a failed assassination attempt after Illya had closed.
Before the performance started, Mercouri told Dowling, "Never on Sunday changed my life twice. With the film I became known. And with the play… I lost everything I owned." There were other Greek actors in the cast, with Titos Vandis and Despo also reprising roles from the film. Many of these cast members are unable to return to their homes and there is a sense of national pride among them. The song "Never on Sunday" – which is sung in Greek – so stops the show at this closing, the audience demands two encores. Everyone on stage is in tears; Melina has stop to collect her breath during the extensive ovation.
One of the most surprising aspects of this article is its length. At 3000 words, the piece seems more like something you might find in New York Magazine rather than Playbill, or at least Playbill as we know it today. Dowling has an exquisite eye for detail, a captivating style and doesn't shy away from less-flattering aspects of show business (the final section on the closing night party reads like a wake). There are quite a few photos shadowing Ms. Mercouri around the backstage area of the Mark Hellinger Theatre. While we often get to hear about legendary opening nights, it's so interesting to see a piece about a closing, especially for a show that was little-loved and is mostly forgotten today.
As a result of the article, I decided to pull the Illya Darling Playbill from my collection. The feature article is a piece by Bob Hope recalling his stage career, with anecdotes about the Ziegfeld Follies and Jimmy Durante. In my copy of Pacific Overtures, there is a wonderful interview with Katharine Hepburn, who was then poised to return to Broadway in A Matter of Gravity.  Now, by interview, I don't mean just a  printed Q&A. The author (Bernard Carrugher) takes his conversation with Ms. Hepburn and develops it into a fully-formed 1500 word piece.  This is just the tip of the iceberg. I could – and did – get lost in these for hours.
The time I spent with my collection led me to wonder: is there a way to create a digital archive of the articles and features from vintage Playbills? There are so many wonderful pieces filled with the minutest of details. I know I'd love access to all of these, with years and years of features, interviews, appraisals, mail-in columns, and occasional fits of whimsy just waiting to be rediscovered. The Playbill Vault is already a wonderful resource, but each entry is limited to the "The Show" portion of the Playbill. These articles are a treasure trove worth exploring.