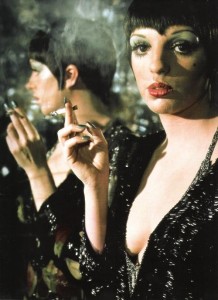 Last night I had the great fortune to attend TCM's 40th anniversary screening of the film version of Cabaret at the Ziegfeld Theatre on 54th Street. After waiting for what seemed an eternity outside in the frigid temperatures, we were among the last to be let into the theatre for the screening. Several hundred people behind us were sent away (with a Howard Keel DVD set as a sort of consolation prize).
I hadn't intended on going. I do enjoy screenings, but I know how these TCM sponsored events, which are free, are a hot ticket and admittance isn't guaranteed. I figured on sitting this one out. As it turned out, someone who was going asked me if I wanted to come. And in that instant I changed my mind. I figured, why not? I sat with Patty and Emily and my web designer Chris Van Patten. They had released some VIP seating and ushers told us to fill in, thus we found ourselves in the same row as Joel Grey and Bernadette Peters. (Other sightings at the event included Arlene Dahl, Phyllis Newman, Tony Danza and Alan Cumming).
Prior to the screening, there was a Q&A led by TCM host Robert Osborne, talking with the film's stars Liza Minnelli, Joel Grey, Marisa Berenson and Michael York, mostly rehashing the same stories they've shared on TV and radio this week. All this was to celebrate the (year-late) 40th anniversary of the film's debut. Warner Bros. has undertaken a meticulous restoration and repair and such for a big Blu-ray release (it comes out February 5). The audience was in the mood to cheer, with most names in the opening credits receiving huge ovations (including the stars, Fosse, Kander and Ebb, and even stage director Harold Prince), as well as ample applause after most musical numbers.
This marked the first time in maybe ten years I had watched the film. It's a fascinating study in adapting a stage musical to the screen, and probably the last truly great film musical to date. The credit is due mostly to director Bob Fosse, who took an unusual stage musical and turned it into an unusual dramatic film with songs. Fosse's singular vision served to create something purely cinematic, using the medium to its best advantage and pushing boundaries with the film's sexual and political content. (Props also to David Bretherton's brilliant Oscar-winning film editing, which only heightens the experience). Major characters were dropped, and new ones were added.  The character songs were discarded, leaving only the diegetic cabaret songs (and adding a couple of others). The only song not sung in the Kit-Kat-Klub is "Tomorrow Belongs to Me," a beer garden waltz that builds into a chilling Nazi anthem – one of the most unsettling moments in the film.
Sally Bowles was meagerly talented and British in Christopher Isherwood's original book, John Van Druten's play I Am a Camera and the stage musical (a major reason Minnelli didn't get the role on Broadway), but for the film she became an American. While the character makes much more sense as a British expatriate, Minnelli gives the performance of her career here. There is nothing she holds back, singing or acting-wise, in this portrait of the ultimate solipsist. Perhaps her being American only adds to how pathetic her delusions are. I think for those in the audience who might be only be familiar with Liza from the tabloid marriages and over the top interview persona, it's eye-opening to recall how tremendous an actress she is. A captivating performance from beginning to end. Joel Grey recreated his Tony-winning role as the ultimate show-biz creep, the Emcee, to Oscar winning effect. In fact, the cast is universally good, and I think that York's performance as bisexual British observer Brian is especially underrated.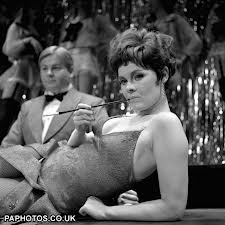 Meanwhile, I have also been paying attention to another Sally Bowles. On record, the film soundtrack, the original Broadway and 1998 Broadway revival cast recordings have always been available, but there is one essential recording of the score that has lingered out of print for two decades: the original London cast album. The 1968 West End production, which played for 336 performances at the Palace Theatre, was noted for its star, a young whipper-snapper by the name of Judi Dench. Thanks to Masterworks Broadway, this album is once again available and a must-hear.
The production also starred Oscar-winner (and future Tony winner) Lila Kedrova as Fraulein Schneider, Barry Dennen as the Emcee and Kevin Colson as Cliff. It's a wonderful album, and if these performers are not as distinctive as their predecessors, they are all up to snuff.  The London album follows the Broadway album closely, but includes extra snippets of dialogue (especially in the finale), music and Fraulein Kost's reprise of "Tomorrow Belongs to Me." The show's entire finale is included, with Cliff reading the introduction to his book, followed by pieces of the character dialogue and songs and it is particularly devastating. This was also the first time that Fred Ebb's biting original ending "She wouldn't look Jewish at all" was restored to "If You Could See Her" (that line ruffled enough feathers on the way to opening night on Broadway that it was changed to "She isn't a meeskite at all").
As for Judi Dench, she's utterly sensational and my favorite Sally Bowles on record. Though far better singers have played the part, she inhabits the character in a way that made me fully understand who she was for the first time. She is dripping with sensuality and cheek through "Don't Tell Mama" and "Perfectly Marvelous" and her delivery of the "Cabaret" is one of the most gut-wrenching, visceral interpretations I've ever heard, with the song becoming its own devastating three act play. It's hands down my favorite rendition of the song and worth the price of the entire album.