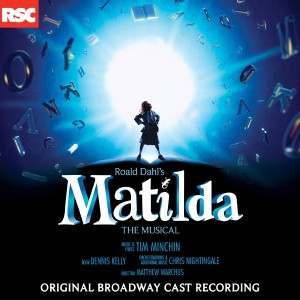 When asked if I thought there would be a Broadway cast recording of Matilda, my response was "Don't hold your breath." Not that I didn't want one; I believe all musicals deserve to be recorded. However, British imports – especially those retaining original West End cast members – rarely get recorded anymore. There was a time when this wasn't the case, with shows as diverse as Irma La Douce, Oliver!, and Les Miserables getting a new recording on this side of the pond. However, during the last 25 years we've seen The Phantom of the Opera, Miss Saigon, Mamma Mia, Mary Poppins and Billy Elliot come to NY and not get a new recording. So it took me by pleasant surprise when it was announced that Broadway Records and Yellow Sound Label were going to record the Broadway cast.
The Broadway production of Matilda was met with great critical acclaim when it opened in April 2013, and as of this writing I have seen the show four times at the Shubert Theatre. It's translated well, though quite a bit of the show's innate Britishness has been softened for American audiences. For me, it's just slightly less special here than it was in the West End. I'm glad that Bertie Carvel and Lauren Ward were able to repeat their brilliant performances in NY, but I found myself not quite as moved as I was at the Cambridge Theatre. The two West End Matildas I saw gave special performances, with one giving the greatest child performance I've ever seen. The original supporting players were also a bit more distinctive; more shades and less outrageous cartoon. I also feel that the revisions composer-lyricist Tim Minchin made to his lyrics, with the exception of those for "Bruce," diminish his work (eg: "Charlotte Bronte – do not wantee" is a poor substitute for "Harry Potter? What a rotter!"). That said, I still think Matilda is one of the best and brightest musicals of the past few years.
Almost exactly two years after receiving the original Stratford cast recording (*not* London, for the record), I received the jazzed up original Broadway cast recording of Matilda, which was recorded just prior to the departure of Carvel and Ward, who'd been with the show since its world premiere. It's interesting to compare and contrast their performances on each album, especially to hear how Carvel's voice has grown more feminine and more distinctive. However, the Stratford recording remains essential if only for Carvel's hidden track performing Trunchbull's entire second act diatribe. Ward's Miss Honey is a performance that feels more lived in, not unlike some of the performances on the 1959 London cast recording of My Fair Lady.
The Broadway cast album boasts punched up orchestrations and vocal arranging (some delicious new harmonies), as well as the first recordings of the new Overture (more of a Prelude, really), "The Chokey Chant," and "Chalk Writing." The three bonus tracks include the first three parts of Matilda's story, though I think the album would be stronger if these underscored monologues were included in their appropriate place in the score, as they build to "I'm Here" in the second act. A deluxe edition containing a cut song performed by Chris Hoch, as well as a quartet version of "Naughty" featuring all four Tony-honored Matildas, is available on iTunes.
I can't say the new Broadway album is better than the Stratford recording, because I think both are worth having. I just wish there had been an original London cast recording.