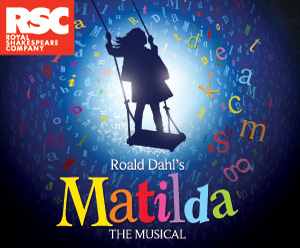 Ladies and gentlemen, Matilda the Musical is a hit. A big, beautiful smash hit. The sort of intelligent, literate musical comedy that makes you want to throw your hat in the air and cheer. This is the kind of show that comes around once in a generation, and will likely run into the next one. Simultaneously touching and subversive, Roald Dahl's story of an unloved prodigy who learns to stand up to the bullies in her life has become a beautifully realized stage property. Matilda is, to quote from its opening number, a miracle.
A child of exceptional mental faculties, Matilda has taught herself to read and has an unlimited capacity for mathematics.  Her weekly reading list could fill a college syllabus, and her imagination is limitless. But her garish, vacuous parents think she's a freak, and her head mistress, Agatha Trunchbull, would rather Matilda went to prison for life without parole. The young child must use the extraordinary gifts of her mind to fight the bullying adults, and in that conflict librettist Dennis Kelly and composer-lyricist Tim Minchin crafted a deliriously tuneful and clever musical with astonishing élan, though I do think there should be a musical button to end the first act. (For my thoughts on the score, here's my post on the original cast album).
Matilda is far more sophisticated than those other musical theatre children who have come before her (Oliver and Annie come readily to mind), and much to my relief – and key to the show's triumph – is that the role is written and directed to be played like a normal child, minus all trappings of the affected, cloying child actor. The charming, takes-no-guff Sophia Kiely played the role the night I attended. (Ms. Kiely rotates with three other actresses). The role is exceptionally large, with huge monologues, musical soliloquies and exhausting choreography. Ms. Kiely was utterly superb; I was in her corner from the moment she critiqued Romeo and Juliet for having a "touch of stupidity" in her establishing song "Naughty."
Bertie Carvel is astonishing as Miss Trunchbull. Playing the enormous bully in panto tradition, Carvel finds so many surprising shades: we see not only her villainy but the insecurities, the craving for attention and her femininity. Almost every line and gesture is laugh inducing, with a distinctive speaking voice that only adds to the overwhelming impact of his performance. His second act number "The Smell of Rebellion," is a physically grueling showstopper, built around a rigorous exercise regimen complete with a trampoline vault. Carvel executes the number without missing a single breath. It's a marvel, and I hope Mr. Carvel will be brought over to delight Broadway audiences next year.
As for the rest of the adults, Paul Kaye is Matilda's father, a dimwitted mean-spirit who espouses the pros of "Telly" during interval. Josie Walker decked out in a garish wig and pink fishnets plays Matilda's narcissistic, dance-happy mother (and is joined by Gary Watson's deliriously sleazy Rudolpho for a tribute to vapidity, "Loud"). Lauren Ward is warm and endearing as Miss Honey, the meek teacher who, thanks to Matilda, develops a spine and learns to stand up to the oppressive Trunchbull. Peter Howe was hilarious as Matilda's dimwitted older brother, punctuating scenes with his inane comatose utterances. Melanie La Barrie adds humanity and humor as Mrs. Phelps, the kind librarian who encourages Matilda's love of reading and story-telling.
Peter Darling's choreography is inventive and engaging, from the cleverness of "School Song" to the swings of the irrepressibly nostalgic "When I Grow Up" to the Spring Awakening send-up of "Revolting Children." Matthew Warchus, who was responsible for my beloved revival of The Norman Conquests several years back, is in peak form with a staging that will rank among his best work. Rob Howell's set, made up of wooden blocks and offbeat, oversize scrabble tiles that spill into the house is a visual delight, a perfect arena for his off-the-wall costumes.
I was so taken with the musical, I bought a ticket for the Saturday night performance. The second viewing allowed me a closer look at the nuances in the staging and choreography, as well as the details of the set. It also gave me a chance to see an entirely different cast of children, with a witty and wise Eleanor Worthington-Cox as the title character. Comparisons would futile, as both young ladies were equally effective in their distinctive interpretations. Also, Paul Kaye was out and I saw understudy Peter Howe offer his own unique, effective portrayal of Mr. Wormwood. I'm quite impressed how the production celebrates performers' individuality. No matter which cast you see, the show will be in excellent form.