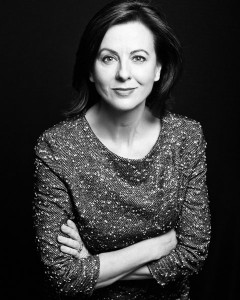 What becomes of a light lyric soprano when her personality is, shall we say, a bit darker than that of her repertoire? This was the premise behind Rebecca Caine's new cleverly titled cabaret No, No, Cosette!, which played The Pheasantry in London. Caine, who famously created the role of Cosette in the original company of Les Miserables, is a noted singer who has had a hybrid career bouncing back and forth between opera and musical theatre. She is arguably most famous for her performances in Les Mis as well as The Phantom of the Opera, having played Christine Daae in both London and Toronto. However, these two roles are the tip of the iceberg when it comes to the soprano's diverse career.
Ms. Caine started the evening on a literal high note with the tango "Jealousy," her second note a D above top C. It set the standard for the evening – flawless technique and crystalline tone matched by a coy, subversive sense of humor. In her opening remarks, Caine commented on the disparity between the roles she's played and who she really is before launching into spirited renditions of Harper and Zippel's "The Ingenue" and "The Diva's Lament" from Spamalot (hilariously tossing the line "I've no Tony awards!" at her close friend and former Les Mis co-star, Tony-winner Frances Ruffele, in the front row).
The repertoire was eclectic, from operetta to contemporary opera, musical theatre (both British and American) as well as specialties. Among the composers heard were Sondheim, Coward, Novello (someone I feel I need to know more about), Ricky Ian Gordon, Frank Loesser, Maury Yeston, Jerry Herman and Marc Blitzstein. (Ms. Caine also spoke of her admiration for Blitzstein's Regina, and is perfect for the role of Birdie if anyone should have the forethought to produce this underrated opera).
Following a complex aria from Gordon's My Life with Albertine, Caine treated the audience to "The Song is You," one of my favorite Kern-Hammerstein songs (from Music in the Air). An effective pairing of "So in Love" from Kiss Me Kate with "Losing My Mind" from Follies was delivered to devastating effect. Similarly, she combined "I Saw Him Once," Cosette's cut number from Les Miserables with a ravishing "Somebody Somewhere" from The Most Happy Fella. Her rendition of Vernon Duke's "Words Without Music" was utterly enchanting.
Ms. Caine was accompanied by Nathan Martin, who performed "I Hold Your Hand in Mine." As a team they had great rapport, as he helped her on various numbers throughout the evening. The soprano's cheekier side shown through with Blitzstein's "Modest Maid," Tom Lehrer's "Masochism Tango," and infamously, the Lapdancing Aria from Anna Nicole Smith: The Opera. She finished her set with Carlotta's number "This Place is Mine" from Yeston's Phantom, culminating in a thrilling high C finish.
The applause was deafening, drawing Ms. Caine and Mr. Martin for an encore, Coward's "If Love Were All." If anything, the applause was even more thunderous than before, bringing the duo back out on stage. For a second encore, Caine joked that her husband told her to "sing something they all know," before the pianist started playing the vamp to "Think of Me," Christine's first song from The Phantom of the Opera. I admit, I have very little time for POTO, but will sit up and take notice when Ms. Caine is singing the score. If anything, Ms. Caine's mellifluous soprano is sounding better than ever, and it was a pleasure to hear such stellar singing.