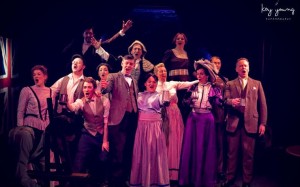 One of the reasons I planned my trip to London when I did was to see the first staged UK production of Darling of the Day at the Union Theatre in Southwark. The tiny London theatre has been noted for limited season revivals of various musicals in its small black box space, and I felt compelled to make the trip because there haven't been many opportunities to see this show, with a score by Jule Styne and Yip Harburg, since its Broadway failure in early 1968.
Based on the novel Buried Alive by Arnold Bennett, Darling of the Day tells of an esteemed painter named Priam Farll who returns to London after an extended absence only to discover he's to receive a royal welcome: knighting, galas, dinners, audiences with royalty; all things he despises. Upon the sudden death of his valet Henry Leek, Farll seizes the opportunity to "get out of the world alive" as he puts it and swaps places with the deceased. Matters are complicated by a lovely Putney widow named Alice Challice, who has been corresponding with Leek through a matrimonial agency. Romance and farcical hijinks ensue.
The musical was a bit of a fiasco in late 1967 and early 1968, going through a slew of directors, choreographers and writers before opening on Broadway without a credited librettist (never a good sign). Vincent Price starred as the artist, with Patricia Routledge as the lovely widow. The show received some kind notices, but was buried in the NY Times by a second string critic. By the time Clive Barnes and Walter Kerr had both chimed in favorably, it was too late. Darling of the Day closed after 31 performances. A few months later, Routledge won a Tony (shared in a rare tie with Leslie Uggams) for Best Actress in a Musical.
Unavailable for amateur licensing in the United States, the musical has languished in obscurity for many years. There have been concert revisions presented at Musicals in Mufti in 1998 and 2005, as well as a couple of rare regional productions. However, the musical has most lived on with the cognoscenti because of its superb original cast album, featuring the show's two best assets: its lovely, rich score and Patricia Routledge, who is one of musical theatre's most unsung heroines. This is the show that introduced me to the vocal wonder of Routledge, and I've long hoped for the opportunity to see a production of the show.
I had been following the progress of the show via Twitter, where I'd been interacting with director Paul Foster, musical director and arranger Inga Davis-Rutter and my beloved Rebecca Caine, who was cast as unscrupulous art collector Lady Vale. In the weeks and months leading up to the production's premiere, I was following their missives from rehearsals and had some wonderful online discussions with Foster about the script and lyrics, and with Davis-Rutter about the instrumentation and vocal arranging she was going to be doing for the show. As a matter of fact, Davis-Rutter saw me in line for the show, introduced herself and proceeded to give me a whirlwind pre-show tour of the theatre, where I got to meet many of the actors during their warm-up.
The intimacy of the Union Theatre puts the audience close enough to the performers to feel as if you are in the scenes with them (most notably the Putney bar where Alice and co. kick it up). Foster's production focused on the unlikely and enchanting romance between Priam and Alice, giving the show a great, big heart as well as some choice laughs. Matt Flint's choreography was superb, and in many cases, downright surprising because of the limited performance space, most notably the barroom showstopper "Not on Your Nellie."
The original book isn't as much a liability as one might think. There are certain elements that don't work, most notably its Gilbertian climax and ending. However, pushing past the farcical elements, there is a lovely and tender relationship at the show's center and while it pokes satiric fun at upper classes, there is tremendous charm. Foster was given three versions of the script to use, and ultimately used the 1968 Broadway script (written by Nunnally Johnson, who refused opening night credit), aside from minor trims from that script, and the use of "An Extra Little Shilling" in place of "That Something Extra Special," the text ran pretty much along the lines seen at the George Abbott Theatre in '68. Foster also included "I've Got a Rainbow Working for Me," which was excised from the Musicals in Mufti revision.
James Dinsmore infused Priam with dry sense of humor and class, and unlike Vincent Price, can actually sing. Katy Secombe made the audience fall in love with her the moment she opened her mouth. Secombe's more of a Cockney belter; a contrast to the Routledge's soprano, but everything about her performance worked beautifully – sort of the warm, charming woman young Cosette would wish Madame Thenardier to be. Caine was impeccably droll as Lady Vale, bringing unexpected and welcome soprano flourishes to the role. The entire production was superbly cast. The ensemble was packed with exceptional singers, with more harmonies than I can remember from other incarnations of the score that I have heard. A stand-out among his peers was Matthew Rowland, who played Alice's Cockney pal Alf, a far departure from Mr. Rowland's recent stint as Boy George in Taboo.
As I saw the show on its closing night, I was invited to join the cast in the Union Theatre's accompanying bar for a drink. The cast was aware of me, and that I was coming to see the show – something that took me a bit by surprise. I had some lovely chats about the show and its score, and got to tell everyone just how much I enjoyed their production, and how much it meant to me to see it. I also had the opportunity to chat with Secombe and her brother Andy, also in the company, about their father: the late, great Harry Secombe. Hearing their stories growing up with one of the great voices in musical theatre was thrilling (particularly hearing what the late Mr. Secombe thought of the abysmal film adaptation of Song of Norway). My night entered another realm entirely when Caine presented me with her copy of the script, which she had signed by the entire company. My cup runneth over. (Pic courtesy of Rebecca Caine).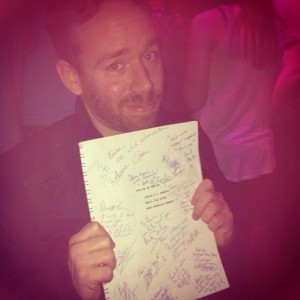 One of the treasures of this experience was not only the opportunity to see a production of one my beloved forgotten shows, but also the chance to see a show in the Union. They have developed a reputation for their various productions, which receive consistently strong notices and are handsomely attended. The venue had been threatened with closure by its owner, who wanted to turn the theatre as well as other surrounding businesses into office space. That should never happen.