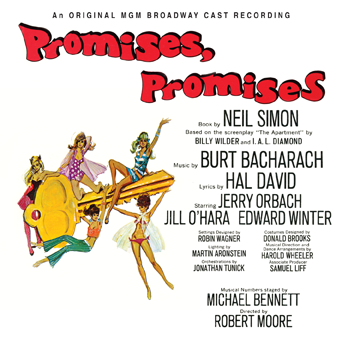 Nowadays, it seems that every time a movie is even moderately successful it's pretty much a given that it will sooner or later find its way onstage (and almost always as a musical). Back in the 50s and 60s this was far less common, with plays and novels (and the occasional original idea) acting as source material. But that doesn't mean that there weren't such adaptations. The 1953 MGM hit Lili became Carnival! in 1961 and the Oscar winning Best Picture of 1960 The Apartment became Promises, Promises in 1968. Incidentally, both of these hit musicals starred the late, great Jerry Orbach and I am a huge fan of both.
The latter is currently receiving its first Broadway revival, while that particular production wasn't very well received, its been in the headlines due to a controversial Newsweek article, a Tony win for supporting star Katie Finneran and its success in spite of a critical excoriation. They've even released a new cast album (more on that CD next time!)
The original production of Promises, Promises was a smash. A no holds barred, full out, critical salvos up the wazoo smash. Jerry Orbach and Jill O'Hara starred in the roles famously created by Jack Lemmon and Shirley MacLaine in the Billy Wilder film. However, Promises was made a contemporary musical – its score and sensibility are reflective of late 60s pop, with a memorable score from pop composer Burt Bacharach and his lyricist Hal David (their only stage score). Robert Moore directed, but it was choreographer Michael Bennett's contributions which most remember. His dances permeated scene changes and turned a troubled first act pastiche into a showstopper to end all showstoppers ("Turkey Lurkey Time").
Jonathan Tunick, our foremost orchestrator, made his first mark on Broadway adopting a style that would be further explored two years later in Sondheim's Company. The production won Tony Awards for Orbach, Featured Actress Marian Mercer (as Marge MacDougall, in a stunning comic turn at the top of act two) and was a nominee for Best Musical (it lost to 1776, the other nominees were Hair and Zorba!). Promises, Promises closed after 1,281 performances at the Shubert. A London run starring Tony Roberts and Betty Buckley ran for 560 performances (and that cast album, with Buckley's definitive rendering of "Knowing When to Leave" has never been released digitally, and according to my sources is likely to remain in the vault).
The original Broadway cast album of Promises, Promises has had two CD releases through Rykodisc and Varese Sarabande. I have the former, and never picked up the latter as it seemed to me a mere reissue of the first one. Then I got wind of a very special reissue of the album from Kritzerland, the CA based company run by Bruce Kimmel, who in the past year has issued limited edition cast albums (1,000 copies each) of Anya, Illya Darling, Show Girl, the 1968 House of Flowers and Cry for Us All.
I wouldn't necessarily think that there would be a reason to purchase another version of the OBC of Promises, Promises except that Mr. Kimmel has worked his magic on the recording to create one of the best sounding cast album reissues I've ever heard. You see, the first two CD releases were taken from the edited eight track master tapes, leaving sound quality to be desired. The original LP master tapes were never remixed or used until this particular issue. The first disc is the original LP album in its LP order and the second disc is the remastered, pitch-corrected version which puts the songs in show order for the first time. Kimmel is supplying the listener with the album as originally heard, but also allowing us the opportunity to hear what it would have sounded like with today's recording technology. (The issue of Jerry Orbach's shaky pitch on the Promises cast album is something of a sticking point for many in theatre circles). Both discs make the score sound crisper than ever.
Mr. Kimmel wrote the liner notes himself, discussing the show's history as well as his personal experiences (he was there the night three different Fran Kubeliks went on). There's no plot synopsis or lyrics, but I don't think many who will buy this recording will need either. There are some fun photographs (including the Turkey Lurkey girls in what must be out of town tryout – with different costumes), a reversion to the MGM LP cover art and pull quotes from all the major raves. The sad news is that the release is limited to 1,000 copies. If you haven't picked one up yet, you may be out of luck. Last I heard there were about 125 copies left – and the preorders were shipped only the other day. (But give it a shot!) It's worth replacing whatever copy of the original you may have.