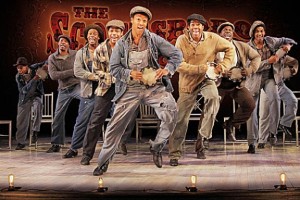 When I find myself really taken with a particular show, I make it a point to try to return to see it at its closing performance. The closing  is filled similar fans (as well as family and friends) who want to come back one last time to savor the theatrical magic that drew us in the first time around. I was startled when The Scottsboro Boys announced its closing notice two weeks ago; I had expected the show to last through the holiday season and well into Tony time. But after only 29 previews and 49 performances, the final Kander and Ebb musical set its last show at the Lyceum Theatre for December 12. In spite of some strong reviews and a vociferous audience response, the show couldn't muster up an audience or advance sales. When asked if I wanted to go to the last show, I said yes immediately.
The musical is one of the best I have seen in the last few years. It was bold, daring and audacious while being literate, tuneful and clever. Kander and Ebb's score, evoking the sounds of the South, is one of the best I've heard in some time and I think ranks with Chicago and Cabaret. There's not a dud in the score, from the jubilant "Hey Hey Hey Hey!" opening to the chilling title number in the finale with its climactic and impactful use of blackface. (For what it's worth, the minstrelsy was used in a way that spoke of empowerment and abandonment of the archaic and racist form of entertainment).
In one of the classiest gestures I've ever seen from an audience, there was a spontaneous full-house standing ovation for John Kander as he was led to his seat pre-show. It's a moment in my theatregoing life that I will never forget. (To the Broadway producers out there – I'm still waiting for the NY premiere of The Visit). It was a moving gesture to a man whose 50 year career is synonymous with Broadway excellence (starting as dance arranger for the original production of Gypsy). It struck me that many of Kander's contemporaries haven't had new work on Broadway in years. Jerry Herman's last musical (La Cage) opened on Broadway when I was less than two months old. Bock and Harnick never wrote another musical together after The Rothschilds in 1970. Even the master, Stephen Sondheim hasn't had a brand new Broadway musical since Passion in 1994.
Kander and Ebb have been represented continuously on Broadway since 1996, when the still-running revival of Chicago opened. They've had three new musicals have opened on the Rialto in that time (Steel Pier, Curtains and Scottsboro). When not on Broadway, other new musicals have been in gestation in regional theatres – including Over and Over/All About Us (adaptation of Thornton Wilder's The Skin of Our Teeth) and The Visit. Scottsboro marked the final debut of a Kander and Ebb score and brings to a close one of the greatest chapters in musical theatre history.
There's that final performance quality for anyone who has been involved on either side of the footlights. Energies and emotions are high and that usually channels itself into a riveting performance with a heightened electricity and pace that adds to the special quality of the day. This was no exception. Numbers received extenuous applause – the opening number, "Shout" and "Never Too Late" all but stopped the show dead. "Go Back Home" is the loveliest ballad I have heard in quite some time and has an emotional resonance which brought many in the house to tears.
As for the cast, if there was yet again ever a reason for a Tony Award for Best Ensemble, this is it. John Cullum guides the evening as the Interlocuter, the sole white actor onstage. Colman Domingo and Forrest McClendon were brilliant as Mr. Bones and Mr. Tambo. As for the nine actors playing the Scottsboro Boys, all are exceptionally talented singers, dancers and actors. Seeing it a second time allowed me the opportunity of picking up elements on the periphery, including the really striking way in which The Lady is used throughout the show (and given a beautiful, mostly silent portrayal by Sharon Washington), often observing on the periphery. It was especially interesting this time just to see how much thought went into the character's function (for those who didn't see it, it was ultimately revealed that she was Rosa Parks).
The classiness of the evening continued through the curtain call, which brought the entire cast and creative team together with members of the production team. After glasses of wine were passed around, Kander offered a toast to his late collaborator Fred Ebb (who died in 2004) then librettist David Thompson offered a toast to the real Scottsboro Boys and finally Stroman offered a toast to the audience. Of the many closings I've attended (this was my 14th), this was the first with such a gesture and it was one of the most understated and effective ways to celebrate the run of a show I've seen.
There has been talk of The Scottsboro Boys returning in the spring, just in time for Tony recognition. Many succes d'estime shows talk about tours and return engagements when forced to close and nothing comes of it. However, this time I would really love to see it come to fruition. Scottsboro was not seen by nearly enough people. This is a bit premature as there are many, many musicals left to open this season, but I really do hope that Kander and Ebb take home the Best Score Tony this spring. (I'm also hoping Stroman is double-nominated in one of her finest outings as director/choreographer). It may have run only 49 performances, but The Scottsboro Boys have set the bar exceedingly high. I only hope the Tony nominating committee and the Tony voters aren't in their usual out of sight, out of mind mentality when it comes to fall shows that have closed.
After the show, I went to Angus to decompress with dramaturge Russ Dembin, my web designer Chris Van Patten and a few of Chris' friends. Sitting in the bar in what could be best described as stunned wide-eyed silence. There was a lot to process, but eventually we talked about their reactions to the show which were overwhelmingly enthusiastic and also just depressed at the premature closing. But I do have a feeling that while this original production is short-lived, the musical will maintain a reputation that other noble failures have achieved. There is early talk of a film adaptation to be made by Oscar nominated director Lee Daniels. But even if that weren't to come to fruition, The Scottsboro Boys does have that one important link that keeps a musical from total obscurity: an original cast album.